Curriculum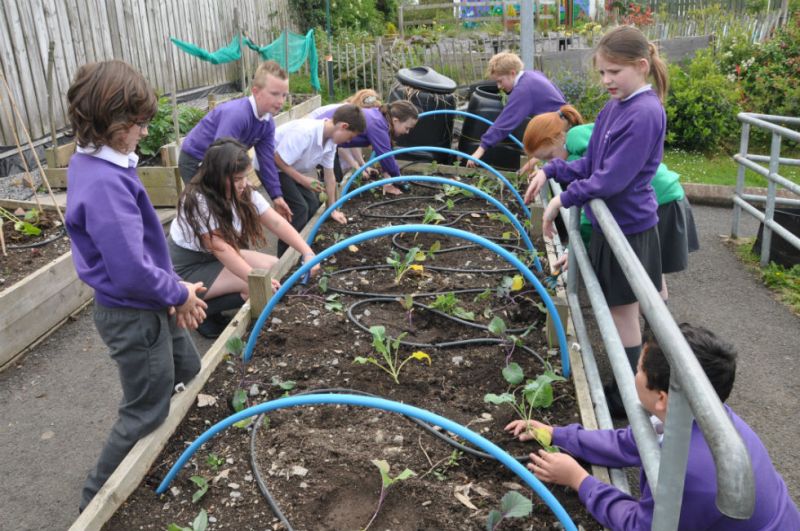 Y6 pupils working on our raised beds
Our motto at Lough View is 'learning and growing together' and accordingly we seek to provide a school curriculum that promotes this core belief.
The learning and teaching in Lough View is rooted in the NI curriculum, which is the starting point for a broad, balanced and activity based curriculum that meets the needs of all our pupils. At Lough View we are committed to ensuring our practice takes account of each child's potential and differing needs and plan from there.
In all classes there is a good balance of whole-class, group and individual activities. Classes are well-organised and teaching activities and pupils' activities are appropriately designed. Pupils are encouraged to develop their Thinking Skills and Personal Capabilities.
Pupils are actively involved in the planning, implementation and organisation of their own learning e.g. planning boards are used throughout school for children to contribute their ideas. Teaching takes account of any special educational needs experienced by a pupil and where necessary tasks and materials are differentiated. Teachers work closely with classroom assistants to support pupils in their learning.
Assessment is a vital tool which is used to inform our planning for how best to meet the children's needs.
Learning takes place inside and outside of the classroom and in many instances uses our amazing school grounds complete with pond, allotments, nature trail and poly-tunnel.
Lough View Integrated Primary School, 63 Church Road, Belfast BT6 9SA | Phone: 028 9040 1347